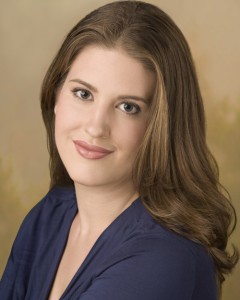 American soprano Katharine Dain has been praised by the New York Times for her "rich tone," "deep emotion," and "lovely, passionate" performances. Her opera credits include Lucia (Lucia di Lammermoor), Fiordiligi (Così fan tutte), Donna Anna (Don Giovanni), Madame Herz/Goldentrill (Der Schauspieldirektor), the heroines of Cavalli La Calisto (title role) and Giasone (Hypsipyle), and numerous smaller roles in repertoire ranging from Purcell to the present day. She recently covered the role of Zina for Gotham Chamber Opera and the Opera Company of Philadelphia in the premiere of Nico Muhly's critically acclaimed Dark Sisters; she has also worked with Ash Lawn Opera, Opera Omnia, Capitol Opera Raleigh, Center for Contemporary Opera, and the Bard Music Festival.
The 2014 season marks several important professional debuts in Europe: her operatic debut with the Netherlands Opera, in Claude Vivier Kopernikus (Coloratura Soprano) with the DNO Talent Development Programme and VocaalLAB; her recital debut in Amsterdam's Waalse Kerk in a prize recital for the 2013 Musico Lied Competition, of which she was the grand prize winner; and her debut in the Concertgebouw's Grote Zaal in John Adams Grand Pianola Music with the Asko|Schönberg Ensemble. She also jumped in at two high-profile festivals on short notice: first, Amsterdam's Holland Festival, in Luigi NonoIl Canto Sospeso with the SWR Radio Sinfonieorchester and Ingo Metzmacher, and two weeks later, Ireland's West Cork Chamber Music Festival, in John Tavener To a Child Dancing In the Wind. The Irish Times wrote of this performance that "soprano Katharine Dain was pure and heart-piercing, singing as if the music might have been written just for her."
In addition to her experience in opera, Ms. Dain has an extensive and varied repertoire in oratorio and concert music and has appeared as a soloist in Bach Matthäus-Passion, Weinachts-Oratorium, B-minor Mass, and numerous cantatas, Handel Messiah and Judas Maccabaeus, Mozart Requiem, C-minor Mass, Coronation Mass and Vesperae solennes de confessore, Haydn Lord Nelson Mass and other masses, and Orff Carmina Burana, to name only the most well-known pieces. She has been featured with the Alexandria Symphony, Springfield Symphony, American Symphony Orchestra, Collegiate Chorale, Masterwork Chorale, Handel Choir of Baltimore, Choir of Trinity Wall Street, New England Baroque Soloists, Rebel Baroque Orchestra, and numerous civic choruses in venues including New York's Lincoln Center and Carnegie Hall and throughout the United States. She has also collaborated as vocal soloist with the renowned Mark Morris Dance Group (Purcell Dido and Aeneas, conducted by Morris) and New York City Ballet (a revival of the historic Jerome Robbins production of Stravinsky Les Noces).
On the recital platform, Ms. Dain has become particularly known as an advocate for the contemporary repertoire. She has been featured in recital at the Ravinia Festival (Steans Fellow 2009), Bargemusic, New York Festival of Song's contemporary-focused NYFOS Next series, Joy in Singing's composer series, Songfest (Stern Fellow 2011), a Marilyn Horne Foundation masterclass in Carnegie Hall with soprano Dawn Upshaw, and in regular national recital tours with the Piatigorsky Foundation, often performing songs and cycles written for her. Ms. Dain is also valued as a chamber musician, collaborating with groups including the Momenta Quartet, Talea Ensemble, New York Miniaturist Ensemble, North Country Chamber Players, and two critically-acclaimed New York chamber groups of her own co-founding: Callisto Ascending, a period-instrument ensemble, and Lunatics at Large, a contemporary ensemble lauded as "young, energetic and highly polished" by senior Times critic Allan Kozinn. Of her performance in Schoenberg Pierrot lunairewith Lunatics at Large, Kozinn wrote, "Katharine Dain, the ensemble's engaging soprano, gave as graceful, and as intense, a performance of Schoenberg's stylized vocal line as you could want. She moved easily between its slides, whispers and more straightforward expressivity."
Ms. Dain holds degrees from Harvard University, the Guildhall School of Music and Drama, and Mannes College of Music, and she currently lives in the Netherlands.
Meer informatie katharinedain.com
Katharine Dain maakt deel uit van het Damask Ensemble.