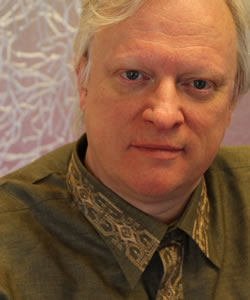 Studied with Meinard Kraak at the Royal Conservatory , The Hague. From 1988 to 1992 he worked regularly with William Christie and 'les Arts Florissants' in operatic and concert repertoire, recordings, and touring extensively throughout Europe, North America and Japan.
On stage he has sung Belmonte, Ferrando, Rinuccio, Arnalta, and has appeared in operas by Cavalli, Handel, Cesti, Verdi, Rimsky-Korsakov, Britten, and several Dutch contemporary composers, in productions in The Netherlands, France and Switzerland, at festivals in Aix-en-Provence, Innsbruck and Massachusetts, at the Koninklijke Vlaamse Opera Antwerp, Théâtre Municipal de Lausanne, Teatro Colón, Buenos Aires, Deutsche Staatsoper Berlin. In 1999 he sang at the operas of Lyon and Montpellier and at the Théâtre des Champs Elysées, Paris. He has sung under conductors as Kenneth Montgomery, Stephan Barlow, Ed Spanjaard, René Jacobs, Paul McCreesh, Gennadi Roshdestvesky, Gabriel Chmura, and Eric Hull.
He has sung with most of the Dutch symphony orchestras, and abroad with ensembles as the Orchestre d'Auvergne, the Orchester der Beethovenhalle, Bonn and the Orchester des SWF with whom he performed the evangelist in Bach's St.Matthew Passion under Michael Gielen. With the Freiburg Baroque Orchestra he sang in Mozart's La finta giardiniera. He has performed an extensive concert repertoire ranging from Monteverdi to Britten and Tippett, in particular the part of the Evangelist and tenor-solos in Bach oratorio, as well as taking part in premieres of Dutch contemporary music (Peter Schat, Robert Heppener and others).
In 1993 he founded the ensemble The Lost Maples, performing vocal chamber music in Holland, Switzerland and Belgium as well as for BBC Radio. Programs centered around composers as Schubert, Brahms, Schumann, Rossini and Offenbach presented in a theatrical setting, as well as a staging of Handelś' Acis and Galatea in 2001.
In recent years he appeared in operas as Peter Grimes (rev. Horace Adams) with the Nationale Reisopera, and as the Madwoman in Britten's Curlew River,Mozart's Nozze di Figaro, Handel's Acis and Galatea, Poulenc's Les mamelles de Tiresias (also recorded for Brilliant Classics) and Philip Glass' Akhnaton.
With the Nederlandse Bachvereniging he participated in Bach's Matthew Passion, as well Handel's Esther. He participated with the Netherlands Wind Ensemble in their acclaimed arrangements as chamber operas of Magic Flute and Cosi fan tutte, Barber of Seville and Turco in Italia. With the Ebony Band he has performed Erwin Schulhof's Jazz Oratorium, recorded live and released by Channel Classics.
For performances by the Nationaal Ballet and the Nederlands Danstheater he has sung such works as Mozart Requiem, Stravinsky's In memoriam Dylan Thomas and les Noces, and songs by Kurt Weill. With Camerata Trajectina he has performed music from the Dutch 17th ("Golden Age") century in concerts, and staged performances, on CD recordings, and tours to Washington DC, Budapest, Morocco, and Harvard Massachusetts.
Recent "singmarks":
March 2010: Evangelist in Matthew Passion, with the Academy of Ancient Music conducted by Richard Egarr.
April 2010: with Camerata Trajectina on tour in US.
September 2010: South African debut at the Voorkamerfest, Darling.
November 2010: Beethoven Missa Solemnis with Utrecht Choral Society under Jos Vermunt.
December 2010: Gerald Finzi Dies Natalis with Holland Symfonia under Jurjen Hempel.
Meer informatie op www.bernardloonen.org