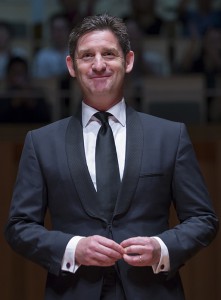 Paul's musical education began as a Boy Chorister in the Choir of St. Paul's Cathedral, London, and in 1977 he sang in the Queen's Silver Jubilee service. His recording of Geoffrey Burgon's 'Nunc Dimittis' won an Ivor Novello Award in 1980, as well as a gold disc, recognizing more than 100,000 album sales.
His musical education continued at the Royal Northern College of Music, in Manchester, England, between 1986 and 1991 where he studied voice and academic studies, spending his spare time singing in various styles and guises – as a member of Manchester Cathedral Choir, fronting a Big Band as well as recording with a Dutch group called 'Janus'. It prepared him for the musical versatility of The King's Singers. Paul's freelance career was well underway by the time he graduated as a tenor. There followed a 6-year period during which he worked as a freelance singer and coach throughout the UK and Europa – continuing to diversify, singing as a soloist in oratorio, taking part in pop and classical sessions, coaching the choristers of Westminster Under School and performing with the Monteverdi Choir.
Paul was appointed to The King's Singers in 1997, and joined in September of that year. Averaging more than 130 concerts annually, he has sung in many of the world's greatest concert halls.'I've enjoyed every minute as a King's Singer,' says Paul, who in nearly 2000 concerts with the ensemble has travelled all over the world, from South Africa, Australia and New Zealand, through Europe, the USA, Canada, South America, the Middle East and Far East with too many places to mention in between! As well as a packed concert schedule, The King's Singers recordings continue to be released to critical acclaim. Yet it is the sheer diversity of repertoire as well as the quality and consistency of performance that has set apart Paul's time with the group; time that has been recognised with numerous accolades: in 2009 Paul was awarded a Grammy for his part in co-producing and performing on the CD 'Simple Gifts'. He featured on the 2011 Grammy winning recording, 'Light and Gold', with music by the American composer Eric Whitacre, and in 2013 The King's Singers were voted into the Gramophone 'Hall of Fame', recognising more than 45 years of recording and performing excellence.
Paul lives in Cambridge, England with his wife and their two teenage sons.